Today we're introducing you to Lindsey from
So Easy Being Green
!
Tell us a little about yourself, where you are located, how many kids you have,little ones in cloth, etc.-
My name is Lindsey, I'm a SAHM to my daughter, Sophia who is 8 months old! We live in the beautiful Smoky Mountains of East Tennessee!
What made you decide to give cloth diapers a try?
My husband started joking about using cloth diapers when I decided to be a SAHM. We both only knew of cloth diapers as the "Gerber prefolds and rubber pants". So, I started thinking about the money that cd-ing would save us, since we would be going to a 1-income status and decided to do some reserach. Hubby was "shocked" when I decided I would cloth diaper full-time! (He was in for quite the surprise when the cd shipments started coming to the door!)
What were your friends and family's reaction when seeing the "new" cloth diapers and have they been supportive or skeptical of your choice to use cloth diapers?
At first, everyone was skeptical. Everyone kinda laughed it off and said, "Yeah, we'll see how long that lasts..." After they saw the "new" cloth, they understood a bit more, but are still shocked that I'm still cloth diapering my daughter.
What was your very first cloth diaper?
I purchased a variety at first, but my main decision was to go with prefolds for the cost-savings. The first diaper my daughter ever wore was a Bummis prefold with a Bummis Super Brite cover when she was 2 weeks old.
What type of diapers does your stash primarily consist of; pockets, aio, onesize, prefolds, flats, hybrids, etc.?
I soon realized that prefolds were just "not my thing". I found pockets (love) and AIO's and replenished my stash with those. I am now a fan of AI2's because of their versatility, but I think my heart will always belong to pockets!
What is your favorite Knickernappies product or which Knickernappies product are you dying to try and why?
I have the
Knickernappies OS
diaper and I LOVE it. Alot of my OS are starting to fit a bit snug and I'm wondering if they will truly last until potty training, but my daughter DEFINITELY has alot of room to go in her Knickernappies. I love the trimness of this OS! I would LOVE to try a Fitted Knickernappies too!
Do you have a favorite place to hang out and talk or learn about cloth ; a blog, message board, facebook page..?
I learned most of my information from The Bump Eco-Friendly Family message board when I was doing my research. Now, I love to meet #clothdiaper Mamas on Twitter and I LOVE to blog and show pictures of my daughter in her CD's on my blog,
So Easy Being Green
! (
http://soeasybeinggreen-blog.com
)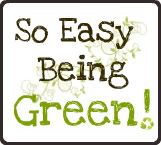 What cloth diapering item, besides diapers, do you consider to be a must-have accessory?
Wetbag and Diaper Sprayer tie... I used my diaper sprayer ALOT. It kept me from having stains and yucky pail liners (that's a must have too!). It saved me when I first started cd-ing from the "ick" factor. I love my wetbags for when we are out and about. They keep the dirty diapers from smelling and my diaper bag clean!
If you could share just one tip with someone who is just starting out with cloth or considering using cloth, what would be your best piece of advice to them?
Do a CD rental program! Use one that lets you try LOTS of different kinds of diapers to find out what you like best. I could have saved the money from buying prefolds, if I would have tried more varieties first!
*Don't forget, Lindsey is having a fun event coming up Feb 7-17th where she'll post reviews and host giveaways galore! Make sure you follow her blog for more details!